Lil Bub: An Evening To Remember
September 8th, 2015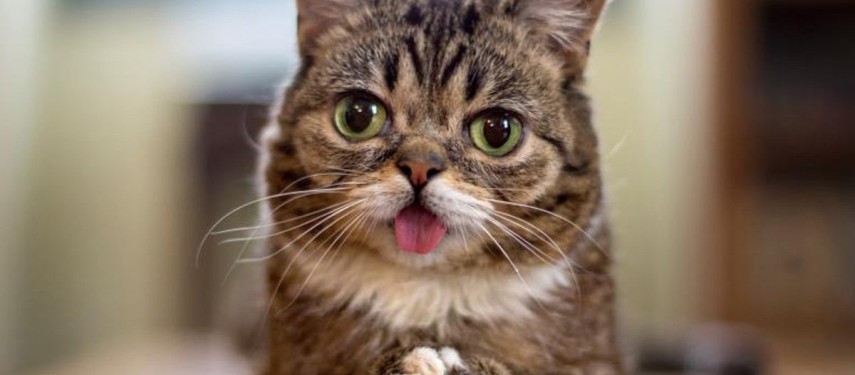 An evening with Lil Bub was a much anticipated event for us. We've been in love with Bub for quite some time, so having an opportunity to see her in person was almost more than we could handle. We arrived at the venue a bit early so we could set up our treats, not thinking about the fact that we would likely see Bub during this time as well. I was setting apple walnut blondies on the table when Mike (Bub's dude) casually walked past me holding Bub in his arms. Having seen her face online almost every day, I didn't really think much of it.  A few seconds later it hit me. THAT WAS BUB! IN REAL LIFE! She's so much smaller in person that I imagined. It was so cool to see how laid back she was, totally comfortable being held for long periods of time.
When the doors opened to the guests we had a chance to meet people who were also as crazy for Bub as we were. The room filled up very quickly and we were excited to see so many people. The iced coffee and catnip tea went over really well. We also debuted our apple walnut blondies with much success. Once everyone settled down a bit it was time for the presentation. Mike, sitting at the front of the room, went through the complete story of Bub, all while Bub comfortably rested on his legs. A very kind fan of Bub's brought Bub's favorite yogurt to give her, so Mike invited him to bring it up so Bub could enjoy it. The entire room watched as Bub loudly at the yogurt and everyone's heart melted a little.
After Mike was done telling Bub's story it was time for Q&A with Bub herself. People began to line up and ask Bub questions. After a handful of questions it was clear that Bub was getting a bit tired so Mike wrapped up.
Bub really is a magical little cat and we are so lucky to have seen her. Thanks so much to Tenth Life for inviting us to be a part of this incredible event!