Our Visit to Purr Cat Cafe Club
August 24th, 2015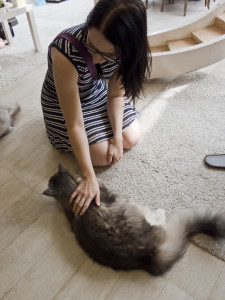 When we visited Thailand in December of 2014 we had already heard of cat cafes but had never had the opportunity to go to one. When we arrived and discovered that Thailand was loaded with them we were anxious to go as soon as we could. We decided that the perfect way to spend Christmas day would be at a cat cafe and we were completely right in our decision. Not having any point of reference for what to expect, we were very curious to see what it was like.
As soon as we walked in the door the mood was very calm and quiet. There was an attendant in the entry that had us remove our shoes and put on leather slippers. We were then asked to wash our hands and then we could enter the lounge. The lounge was fairly small but the bright light coming through the windows created a nice sense of openness. In the center of the room there was a spiral staircase for the cats to access the catwalks that were suspended from the ceiling. Two different types of seating were available, some chairs with tables alongside a wall, and rugs with very low tables. It was pretty easy to see that the floor was the more ideal location to sit if you wanted to have any visitors.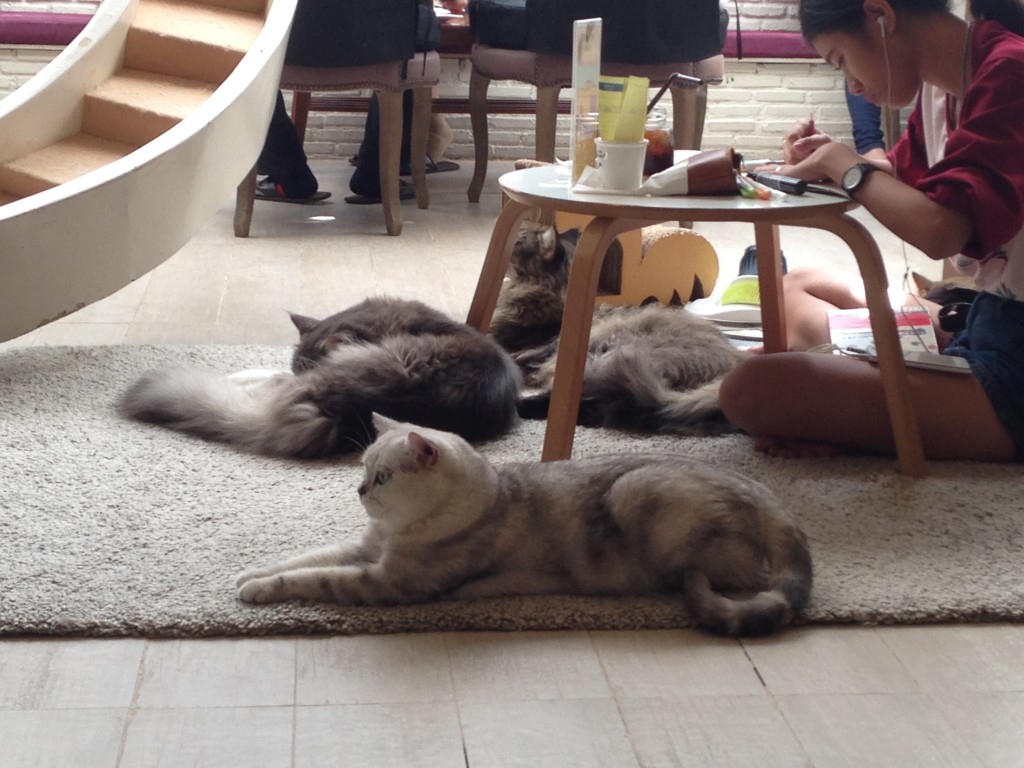 We initially chose the chairs and tables as all of the floor seating was occupied. There were menus on all the tables as well as cafe rules. Rules were fairly simple but necessary (don't disturb sleeping cats, don't give cats human food, if you mistreat a cat you will be asked to leave). We ordered a few drinks and waited for cats to come to us. Most of them were happily sleeping by themselves and as the rules stated not to disturb sleeping cats, we just watched and enjoyed taking in the full experience while we drank our tea. When a low table became available we quickly moved to it and got comfortable. Luckily we had a backpack with us so within minutes we had a cat interested in what we were doing.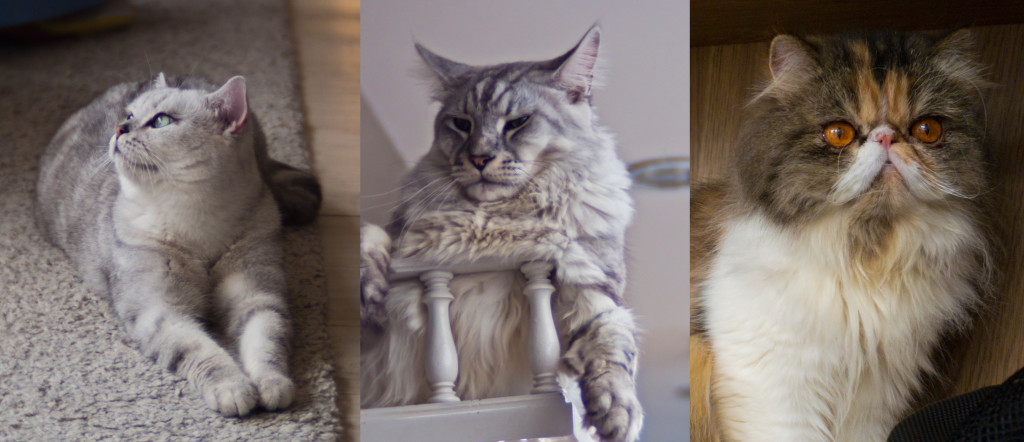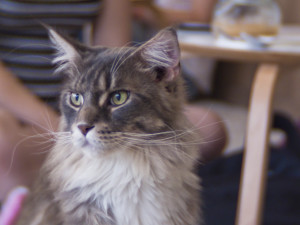 It was honestly just so fun to watch the cats interacting with one another. There were kittens that were in a large glass enclosed area between the entry room and the lounge. A lot of cats were sleeping in chairs. Some were perched on the catwalk, some on the bookshelf. Customers were allowed to order small dishes of milk for the cats, so some cats were enjoying this treat.
We decided that we weren't leaving any time soon so we ordered some food. Cats would come and go past us and we would take pictures as they went by or if they decided to stay a while we would pet them and thank them for honoring us with their presence. We stayed for as long as we thought was acceptable (probably ended up being close to 2 hours) and then decided it was time to say goodbye.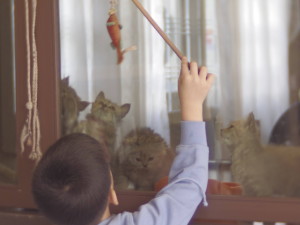 To our surprise when we paid our bill we were asked to choose a cat from the room to take a photo with. Apparently ordering 3 drinks and 2 food items was enough to warrant this treat. We chose an especially fluffy cat named Leoyard and they ushered us into a room full of props. It was weird. It was also really hilarious.
Our trip to Purr Cat Cafe club was enough to make us begin seriously talking about starting a cat cafe of our very own. We were hooked and there was no going back.